A great candidate experience helps you improve your brand reputation, attract top talent, and more. But how do you achieve this amazing candidate experience we have been talking about?  
We could give you a manual, but we thought why not share some top examples of companies that are already nailing candidate experience. These examples will inspire you and help you find creative ways to improve your candidate experience.  
4 Examples Of Outstanding Candidate Experience 
 Heineken: Getting Creative 
 If you ask almost any Australian if they want to work for a beer company, the answer is going to be yes – Free beer, right?! 
 But for Heineken, it is not only their product that brings in top applicants, but it's also their candidate experience.  
 Heineken got creative with their application process and created a hiring experience that got people talking and CVs pouring in (pun intended).  
 They put together what could be considered one of the strangest compilations of applicant tests you have ever heard of. From hand holding to fire alarm drills, they put candidates through a range of high-pressure situations to test their grit.  
 The best interviews were filmed and then released as part of a marketing campaign. As a result, traffic to their careers site soared by a whopping 279%.  
https://www.youtube.com/watch?v=a9JLJ4cm3W8 
 Slack: Diversity And Inclusion 
A McKinsey and Company report found that companies with a diverse workforce performed 15 to 35% better than those with lower diversity.  
 Not only does diversity and inclusion make for a better workforce, but in the current social climate, it also helps attract top talent. People want to work with companies that share their values. 
 Slack knows all of this and puts a big focus on diversity and inclusion in its hiring process as a way to improve the candidate experience for all candidates – no matter their race, gender, ability age etc.  
 Slack publicly shared its internal ethnic and gender makeup along with its plan for improving diversity and inclusion. This showed potential candidates from all backgrounds that it values creating an inclusive workplace. 
 It helps candidates from backgrounds that experience more discrimination feel that they will be judged fairly in the recruitment process. This type of candidate experience provides reassurance to candidates and means a wider and more diverse pool of applications will apply for vacancies.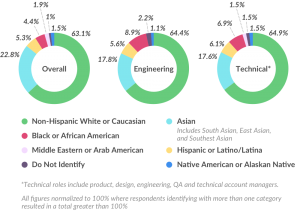 Source: https://techcrunch.com/2016/02/04/slack-releases-diversity-report-with-stats-on-intersection-of-race-and-gender/
3M: Transparency From Start To Finish 
Transparency is important in the candidate's experience. Your applicants want to know what to expect. How long do applications take to be reviewed? How many interviews are there? Do interviews take place on-site?  
Often candidates will have the same questions so 3M created an exceptional resources page that tells candidates everything they need to know about the hiring process and working for 3M. 
3M lays out their entire process clearly on their careers website. This means candidates don't stress about the hiring process and can focus on preparing for their interviews or researching the company.  
The site is extremely user-friendly and makes it easy for users to find any information they are looking for. The HR managers within the company even share interview tips and a checklist for success. These things help candidates feel at ease and as though they are well prepared for their interviews.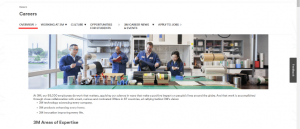 Source: 3M Careers & Employment | Where to Start | 3M US
Booking.com: Candidate Focused Content  
Your content marketing team should not only be creating content for customers but also for candidates.  
Booking.com's career site puts a huge focus on sharing what working with their brand is like. They have created insightful content that shows what their workplace culture is like in each of their locations – even for their remote team. 
Each of their locations has its own careers page. The content shows what the offices look like, what the official mission is and they use employee-generated content in the form of quotes and testimonials to help candidates understand the business.  
For many of the locations, they even include content that shares what it is like to relocate to that city. This shows candidates from all over the world that they are welcome to apply and helps put them at ease by showing that Booking.com cares about its employees and would make any transitions as smooth as possible.  
To Sum Up 
78% of candidates report that the overall candidate experience tells them how a company values its people.  While an overwhelming 80–90% of talent say a negative candidate experience can change their minds about working for a certain employer.  Creating a great candidate experience requires you to put yourself in the shoes of the candidate and build a process with as little friction as possible, where candidates are guided from one step to the next and treated with respect the whole way.   
We hope the above examples helped inspire you around what you could do to make your candidate experience great too.  Keen to learn more about how to create a great candidate experience? 
Download our E-Book: How to improve your Candidate Experience: A Step-By-Step Guide.